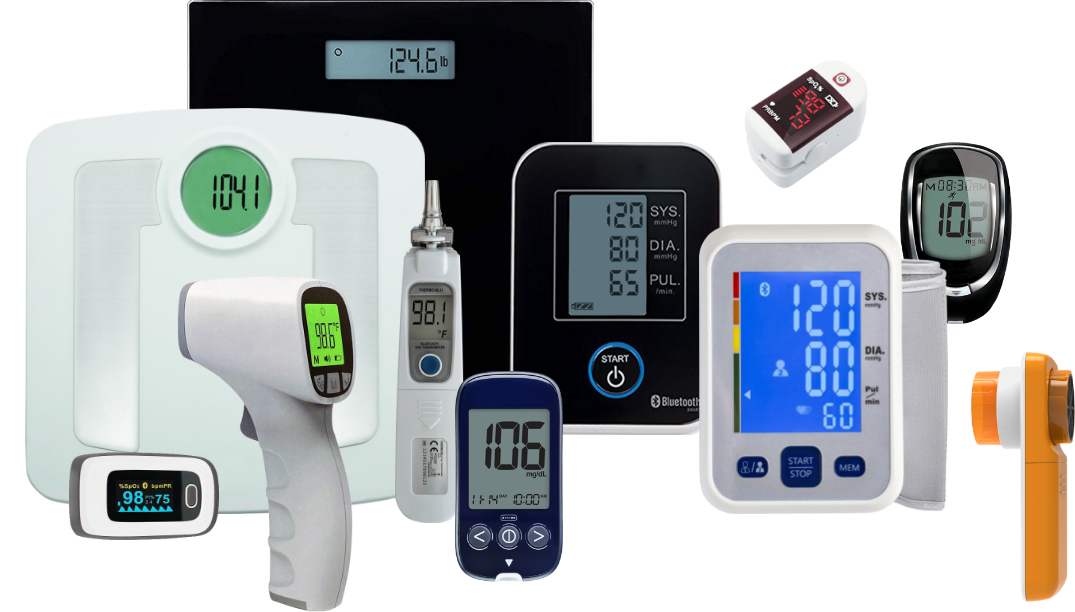 Supported Devices / Solutions
The Life365 System connects to over
300 Bluetooth Medical Devices – and more.
Supported Devices / Solutions
Life365 connects to over 300 Bluetooth OEM Medical Devices ranging from Spirometers, Thermometers, Weight Scales, Pill Reminders, Activity Trackers, Blood Glucose Meters, Blood Pressure Monitors, EKG / ECG, Fetal Dopplers, Heart Rate Monitors, Pulse Oximeters, Sleep Trackers and many more.
The Life365 App also allows manual recording of readings taken from devices that are not Bluetooth enabled.
We are constantly adding on new FDA cleared devices to our platform regularly and partner with companies to add their new products as well.
Following is a sample of commonly used devices and kits.
Vitalograph Lung Monitor (BT)
Model: 4000
Product Description:
Vitalograph lung monitor is an easy to use home monitoring device which records lung function parameters
Easy to use for monitoring of lung function parameters for those with respiratory conditions including Cystic Fibrosis and transplant patients. The lung monitor measures FEV1, FEV6 and the ratio with electronic and hard copy reports. The device is simple to use and stores over 200 test sessions.
Specs:
Feature

Specification

Product

Vitalograph Lung Monitor

Model Number

4000

Part Number

40500, 40400, 40750, 40950

Description

Vitalograph lung monitor, Vitalograph lung monitor USB, Vitalograph lung monitor Bluetooth, Vitalograph lung monitor serial

Parameters Displayed

FEV1, FEV6, FEV1/FEV6 Ratio and FEF

Memory

FEV1, FEV6, FEV1/FEV6 Ratio and FEF

Quality of Blow Indicator

Yes

Accuracy

Better than +/-3%

Range

0 -9.99 L BTPS

Sensor

Stator Rotor

Flow Impedance

Better than 0.15 kPa/L/s at 14 L/s

Power Supply

AAA batteries

Display

Custom liquid crystal display

Size

113 x 63 x 48mm

Weight

55g net

Performance Standards

ISO 26782:2009

ISO 23747:2007

ATS/ERS Guidelines 2005

Operating Temperature Range

17 – 37C

Safety Standards

IEC 60601-1:2005

Medical Safety Standards

Medical Devices Directive 93/42/EEC

Designed and Manufactured to Following QA/GMP Standards

ISO 13485:2003

FDA 21CFR820

CMDR