Comprehensive Bundled and Integrated Solutions
Today Remote Patient Monitoring (RPM) solutions can not be just standalone, they must solve all the friction points of connectivity.
In order for Remote Patient Monitoring to scale, it must be bundled with solutions that are personally aligned to meet individual patients' needs. In addition, we must remove all friction points that cause RPM / Digital Health solutions not to scale. These include a lack of integration to the backend clinical systems, choosing the right Digital Health solution aligned with the right patient to produce the right outcome. Clinicians are busy in the care of the patient and don't have time for the logistics or delivering the selected solution and engaging the patients in using the solution. In order to maximize care with a patient population, you must align the right solutions with the right patient to achieve the right outcome at the right return of investment (ROI).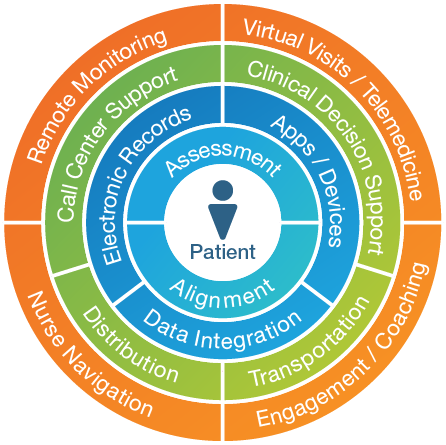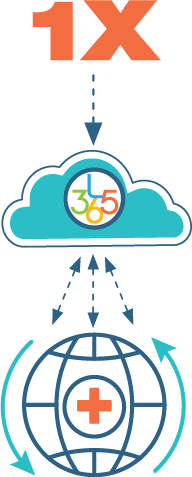 Many Solutions. Many Patients. Anywhere. Anytime.
Part of the friction point of scaling with health systems is that there are thousands of Digital Health solutions, but each needs to be integrated, selected, aligned, and bundled with other solutions in order to maximize adherence and engagement.
The problem with scaling Digital Health solutions is that they are disparate solutions with each one requiring individual alignment and integration into clinical backend systems. The Life365 Virtual Care Platform integrates each of the disparate solutions into its platform, then uses the Life365 Interoperability Engine (IE) to send data into the clinical backend from each of the solutions. Instead of the health system having to integrate thousands of solutions, they can simply integrate once to the Life365 Virtual Care Platform, send a Care Plan or Order into the platform and allow the platform to select the solutions that are already integrated, align them with a patients needs, deploy with the patient, engage and collect data, then return the data into the clinical backend. In this scenario, the data simply has to create a Care Plan or Order and wait for the data to flow into the backend system. The advantage of the health system is that they get access to thousands of solutions with one collection. The advantage to the Digital Health company to integrate is that they get access to hundreds of health systems integrated into the platform.