FCC Round 2 Telehealth Funding for 2021
Applications for the 2021 FCC COVID-19 Telehealth Program open April 29th, 2021. We've included information and resources to help you get started. If your health care organization is considering launching or expanding a telehealth and/or remote patient monitoring program, contact Life365.
What is the FCC Telehealth Program?
Last year, congress appropriated $200 million through the CARES Act to launch the COVID-19 Telehealth Program. Through the program, 539 applicants were issued awards to fund telehealth and connected care services. In December 2020, Congress approved another $249.95 million through the Consolidated Appropriations Act of 2021 for a second round of program funding.
On March 30, 2021 the Federal Communications Commission unanimously approved the process for distributing nearly $250 million in the next round of COVID19 Telehealth funding. The application filing window for the second round of the COVID-19 Telehealth Program will open on Thursday, April 29, 2021 at 12:00 PM ET. The filing window will last seven calendar days and close on Thursday, May 6, 2021 at 12:00 PM ET.
Applications for the Program may be filed through a dedicated application portal, available on the COVID-19 Telehealth Program webpage: www.fcc.gov/covid19telehealth. Applications will be accepted once the application filing window opens, and all applications will be reviewed after the application filing window has closed.
The FCC has released a document detailing a rating system with specific details on how applicants will be evaluated. This information can be found on the FCC's website, HERE.
Who is eligible to apply?
The program is open to non-profit and public health care providers, whether they are located in rural or non rural areas. For profit entities are not eligible for funding. Round 1 applicants are still eligible for round 2 funding, even if they were awarded prior funding. There is a 1 million dollar cap in funding per applicant. Round 1 award amounts will not count towards the 1 million dollar round 2 cap. Round 1 applicants that were not awarded funding, will also receive an increase in points for Round 2.
According to the FCC, eligible institutions include
post-secondary educational institutions offering health care instruction, teaching hospitals, and medical schools;

community health centers or health centers providing health care to migrants;

local health departments or agencies;

community mental health centers;

not-for-profit hospitals;

rural health clinics; and

consortia of health care providers consisting of one or more entities described above.
What is the new rating and evaluation system?
Round 2 of funding will utilize a set of evaluation metrics to establish an objective and transparent application process. Round 2 application metrics will prioritize:
(1) eligible health care providers that will benefit most from telehealth funding;
(2) as many eligible health care providers as possible;
(3) Tribal, rural, and low-income communities to ensure that this additional support will be directed to communities where the funding would have the most impact
(4) hardest hit areas to make sure that funding continues to support health care providers in areas most impacted by the COVID-19 pandemic.
Applications from eligible health care providers will be evaluated and receive points based on the following evaluation metrics:
Hardest Hit Area;

Low-Income Area;

Round 1 Unfunded Applicant;

Tribal Community;

Critical Access Hospital;

Federally Qualified Health Center,

Federally Qualified Health Center Look-Alike, or Disproportionate Share Hospital;

Healthcare Provider Shortage Area;

Round 2 New Applicant;

and Rural County.
Round 2 evaluation metrics table can be found on page 18 of the COVID-19 Telehealth Program Round 2 Report and Order and Order on Reconsideration released March 30, 2021.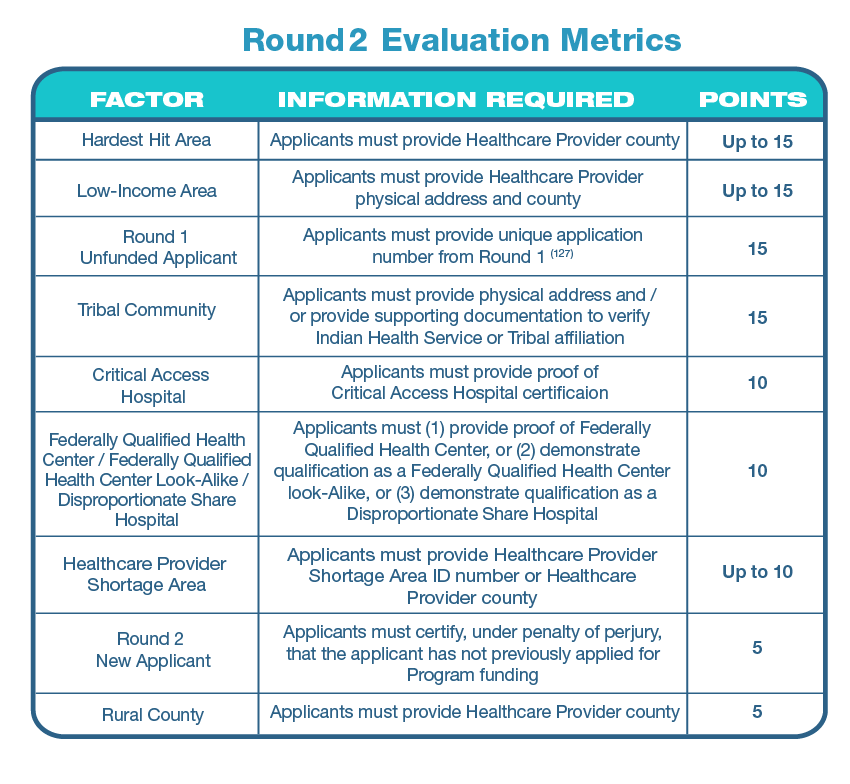 We helped organizations last year with their telehealth and remote patient monitoring programs - with various goals of:
Monitoring patients at home / diverting from ED
Decreasing readmissions
Screening for COVID-19
Enabling telehealth visits
Reducing barriers of receiving care for rural residents
Patient education and self management support
Leverage our platform to provide virtual visits, capture biometric measurements, information from health surveys, schedule medication and appointment reminders, provide patient education, and more to achieve your goals.
Examples of eligible services and connected devices include
Information Services: Remote patient monitoring platforms and services; patient reported outcome platforms; store and forward services, such as asynchronous transfer of patient images and data for interpretation by a physician; platforms and services to provide synchronous video consultation. These expenses are eligible for up to 12 months of funding.


Connected Devices: Tablets, smart phones, or connected devices to provide telehealth services (e.g., broadband, Wi-Fi, or Bluetooth enabled blood pressure monitors; pulse-oximeters) for patient or health care provider use; telemedicine kiosks/carts for health care provider site.
The costs for taxes, shipping, and installation or integration of eligible devices and services are also eligible expenses.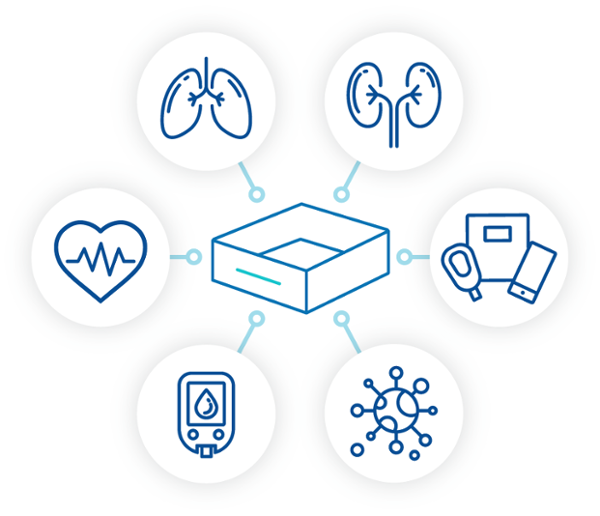 Steps to prepare to apply
There are three steps interested applicants can take immediately to prepare to apply for the Program:
(1) obtain an eligibility determination from the Universal Service Administrative Company (USAC);
Interested health care providers that do not already have an eligibility determination may obtain one by filing an FCC Form 460 (Eligibility and Registration Form) with USAC. Applicants must have obtained a health care provider number to submit an application for Round 2 of the Program. However, applicants that do not yet have an eligibility determination from USAC can still file an application for Round 2 of the Program while their FCC Form 460 is pending with USAC.
The FCC Form 460 can be found at: https://www.usac.org/rural-health-care/resources/forms/.
Contact USAC for specific questions about eligibility and completing the eligibility form (FCC Form 460) via telephone at (800) 453-1546 or via email at: RHC-Assist@usac.org.
(2) obtain an FCC Registration Number (FRN);
To submit an application, the applicant must first obtain an FCC Registration Number (FRN).
All applicants, like all other entities doing business with the Commission, must register for an FRN in the Commission Registration System (CORES). An FRN is a 10-digit number that is assigned to a business or individual registering with the FCC. This unique FRN is used to identify the registrant's business dealings with the FCC.
To register with CORES, use the following link: https://apps.fcc.gov/cores/userLogin.do.
(3) register with (SAM) System for Award Management.
To receive payment through the Program, applicants must be registered with the federal System for Award Management. While interested parties do not need to be registered with the System for Award Management to submit an application, applicants are strongly encouraged to start that process early. Only applicants registered through the System for Award Management will be able to receive Program funding.
To register with the system, go to https://www.sam.gov/SAM/ with the following information:
(1) DUNS number;
(2) Taxpayer Identification Number (TIN) or Employment Identification Number (EIN); and
(3) Your bank's routing number, your bank account number, and your bank account type, i.e. checking or savings, to set up Electronic Funds Transfer (EFT).
Why Life365?
Life365 is a leading provider of connected health solutions. We help healthcare organizations launch successful remote patient monitoring programs. Our experience includes:
15+ years of developing Telehealth and remote patient monitoring solutions with countless implementations across the nation.
Proposal support. We are here to help you be successful.
One Solution doesn't fit all. We offer a range of remote care solutions and services – on one platform.
Data Integration - Choose from using our Clinical Portal, API integration into your system or connection to 450+ Health System and 50+ EHRs (EPIC, Cerner, Allscripts, PointClickCare, AdvancedMD, etc.)
Medical Devices - Choose from a variety of brands in medical devices - We support over 300+ devices / brands. Click here to see Supported Devices.
Connectivity - Choose from a variety of connection points to the clinical backend, including Configured Tablets, Cellular Hubs, BYOD Apps and Cellular Devices
Services and Solutions: Life365 is aligned with a variety of partners that help with the personalization of a program to meet your members needs: Nurse Navigators, Nurse Call Centers, Wellness Checks, Decision Support, Population Health, Transitions of Care, Healthy Food delivered at Home and much more. Click here to see our Partners.
Program support every step of the way, from application to implementation.
Distribution / Logistics - Life365 can configure and deliver kits directly to patient homes - ready to go or provide delivery to the point of care.
Care Monitoring & Support - Life365 offers clinical monitoring services through partnerships with leading remote care service providers, especially with COVID-19.
Decision Support - We provide a Population Health Decision Support solution through our partner, Avixena, with more than 35+ modules of care including discharge planning, fall risk assessment, PHQ-9, readmission risk, and much more.
Want to learn how you can extend telehealth and remote patient monitoring to your patient population?
Contact Our Telehealth Specialist Today!
Life365 wants to be your partner in applying for the FCC COVID-19 Telehealth Funding. We have Telehealth Specialists that can help walk you through the program and prepare a quote / proposal, quickly, in order for you to build a successful customized program to meet your needs.